PPE
Military Misreadings of Shakspere
Lieutenant Colonel Thomas Strong Seccombe 1840–c1913
About forty years ago, when browsing in an antique shop in Dartmouth, I was attracted to an unusual book and bought it; although still in tatters, it has since become a treasured possession. It is a rare 1881 copy of Military Misreadings of Shakspere (sic),first published by Routledge & Sons in 1880. It enjoyed great popularity with six editions or impressions being made during 1880 and 1881.

The book, in landscape format, consists of thirty one well observed, cleverly drawn and painted images of military caricatures and situations in Queen Victoria's Army.

Each image has a short pithily appropriate quotation from a Shakespeare play so that the combination of image and caption makes for a uniquely amusing read. Of the thirty one images, nine feature officers and some soldiers of Household Division regiments, namely The Life Guards, The Blues, The Royals (1st Dragoons), Grenadier Guards, Coldstream Guards and Scots Guards, and one of the Bodyguard. The Editor is kindly including three in this edition of The Guards Magazine.
'I would, I had thy inches'
Cleopatra - Act i Scene III


'In peace, was never a gentle lamb more mild' Titus Andronicus - Act ii Scene I
It is not known when Seccombe conceived the idea of making the book which was published just before he retired from the Army aged 40. His artful foreword to the book reads: 'In submitting these Military Caricatures to the public, the artist, would disclaim all intention of reflecting upon the powers of equitation, etc., of any particular corps, the uniforms of regiments represented having been chosen solely for variety'.

Thomas Strong Seccombe, born in Calcutta on 24th February 1840, was the son of Thomas Seccombe and his wife Caroline Mary nee Brunton. He was baptised at Fort William, Bengal on 22nd March 1840. He served in the Royal Regiment of Artillery and in 1871, as a captain stationed at Woolwich, married Amelia Blanche Kennedy of Portsmouth; they had two daughters, Gladys and Olive. He was gazetted Major on 8th September 1875 and retired in 1881 as a Lieutenant Colonel.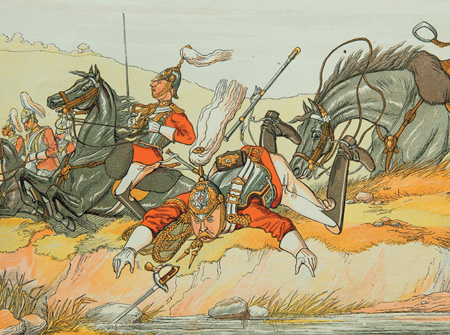 'That what you cannot, as you would, achieve, you must perforce accomplish as you may'
Titus Andronicus - Act ii Scene I
Seccombe painted various regiments in a conventional style but was best known for his military sketches and caricatures. A collection of these were published as Army and Navy Drolleries by Frederick Warne in 1873 and 1876. On retirement he lived in Clapham and enjoyed success as an illustrator and author; he illustrated the acclaimed Miss Kilmansegg and her Precious Leg written by Thomas Hood (1799-1845) with engravings by Edmund Evans (1826-1905).

He attended his daughter Olive's wedding at Cochin, Madras in 1908 and is thought to have died in 1913 although his date of death is often given as 1899. His widow Amelia lived in Woolwich and died in Cardington, Bedfordshire on 9th May 1920.


Paul Cordle
It is hoped to reproduce the book and possibly to use the artwork for other publications.