PPE
Charles Saunders' 100th Birthday celebrations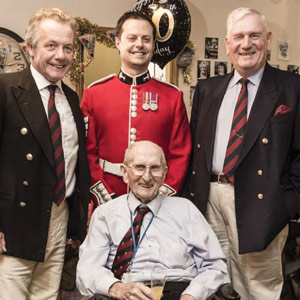 Charles Saunders surrounded by fellow Welsh Guardsmen
Welsh Guardsman Charles Saunders celebrated his 100th birthday on 23rd December 2017 at the Royal British Legion Maurice House Care Home in Broadstairs, Kent. To help him celebrate, he was joined by Lieutenant Colonel Davies, Major Richardson and Lance Sergeant Laing, who played Happy Birthday on the bugle.

Regimental Headquarters had arranged a few gifts for Charles and he was presented with a 100th Birthday card from The Queen and a personal letter of congratulations from the Colonel of The Regiment, The Prince of Wales.

Birmingham-born Charles Saunders was just 21 when he enlisted into the Welsh Guards. He was with the 2nd Battalion in Boulogne in May 1940, was captured by the Germans and spent some four years in Lamsdorf Prisoner of War Camp in Poland.