PPE
The unveiling of a plaque on 9th June 2018 to commemorate the arrival of
3rd Battalion Grenadier Guards in Wakefield in June 1940 after their evacuation from Dunkirk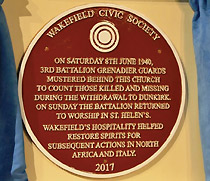 A moving ceremony was held on 9th June 2018 in St Helen's Church Sandal in Wakefield to unveil a plaque which records the story of the arrival of 3rd Battalion Grenadier Guards in Wakefield soon after their evacuation from Dunkirk. They were billeted with residents of Sandal, Walton and Portobello. On 8th June 1940 the Battalion mustered below St Helen's and a roll call was taken. The Battalion had lost 48 all ranks killed, 104 wounded, 3 missing and 20 known to have been taken prisoner. On Sunday 9th June 1940 a Parade Service was held in St Helen's on a day of national celebration.

These events were witnessed by Gerald Southworth, who was eleven years old at the time, and are vividly recalled in his article Dunkirk - Wakefield's Link with the Grenadier Guards, published in The Guards Magazine, Autumn 2016. The Regimental History records: 'At Wakefield, their own re-found companionship, the welcome of the civilians, and the peace and quiet of the English countryside were sedatives for their tired nerves and bodies, stimulants to the revival of their self-esteem'.

The ceremony on 9th June 2018 was attended by many residents of the Parish and by Squadron Leader David Dinmore MBE, Deputy Lord Lieutenant for West Yorkshire, Mary Creagh MP for Wakefield, Kevin Trickett MBE, President of the Wakefield Civic Society, and Gerald Southworth, whose idea it was. The service was led by the Reverend Rupert Martin, Vicar of Sandal Magna.

The plaque was unveiled by Brigadier David Maddan DL, formerly Regimental Lieutenant Colonel Grenadier Guards, with the following words:

'It is a great honour to represent the Grenadier Guards at this unveiling ceremony. Soldiers are recruited from the community, serve the country and return to the community after their service. In that sense we are you and you are us. During tough times fighting abroad and when recovering from the ordeal, soldiers draw on the community to sustain and protect them. We do difficult things for you and you reaching out to us is of immense comfort. This initiative recalls a striking example of a community reaching out and its commemoration resonates very directly with those who serve today. It is a great privilege to unveil this plaque on behalf of the Grenadier Guards and especially those who served in the 3rd Battalion in 1940 during the evacuation from Dunkirk'.