PPE
In the 1980s, I attended meetings of The Coldstream Guards Regimental Association and, during one such meeting, the following occurred.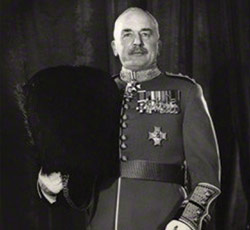 Major General Sir George Burns GCVO CB DSO OBE MC KStJ was the Colonel of The Coldstream Guards from 1962 until 1994. Regularly taking time out to visit the Battalions, he always attended as many branch meetings of the Regimental Association as he possibly could.

Held in great affection and known by all as General George, he had a quite superb rapport with all members of the Regiment but, in particular, with the Guardsmen. Indeed, they were always his first priority, and he loved being with them, drinking one pint of ale, two pints or even more, whilst simultaneously chain smoking. As he did so, the fag ash liberally attached itself to his waistcoat, which his frame amply padded.

And so it was that he attended, as guest of honour, a Bath branch meeting and dinner night of The Coldstream Guards Regimental Association. The turnout was excellent and the evening was very jolly. After no shortage of refreshments, the President of the branch, Torquhil Matheson, gave a long speech of introduction, particularly long because I remember that an old Guardsman, clearly well refreshed, had nodded off. General George rose to address us but just as he did, a Guardsman at the back of the room, got up and interrupting him, said 'Excuse me, sir, but you're about to expose yourself'. General George, dusted off the fag ash from his waistcoat, did himself up and replied 'Thank you very much for alerting me and how very attentive of you to still be awake' and then immediately led on into his speech. The fact that that a Guardsman felt comfortable enough to interrupt The Colonel of the Regiment speaks volumes of the character of General George.