PPE
Grenadier Guards Remembrance Sunday 2017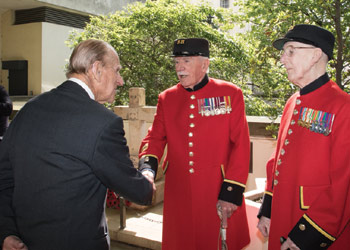 On 21st May 2017, In Pensioner Norman Mitchell and I attended the Grenadier Black Sunday 2017. After the Service in the Guards' Chapel and the wreath laying on the Mareth Cross, the Colonel of the Regiment, HRH The Duke of Edinburgh, came across to the Mareth Cross where Norman and I were standing. We were presented to HRH by Lieutenant General Norton. I explained to HRH about Norman's involvement. Norman (aged 97) was a member of the 6th Battalion of the Regiment who took part in the Battle for the Mareth Line, North Africa, 1943. Due to bad intelligence, the Battalion took very heavy casualties: 23 officers and 256 other ranks. Mareth is one of the Regiment's Battle Honours from the Second World War.

The Mareth Cross was erected on the battlefield and much later moved to the UK. It was in the Guards' Depot, Pirbright. When the Guards Depot ceased at Pirbright, Norman started and led a campaign to move the Cross to the Guards' Chapel in London. Due to his efforts, this happened. All this I explained to HRH.

Norman then said to HRH 'the first duty Her Majesty, The Queen, carried out as Colonel of the Regiment, in 1942 when she was 16, was to inspect the newly formed 6th Battalion before it embarked to the Middle East to join the 8th Army'. Norman was on parade. Norman then asked HRH if he would tell Her Majesty that, having carried out extensive research, only four members of that Battalion are left. HRH said he would do so. In all a very good day!

Ray Huggins MBE