Home



About Us



Subscribe



Advertise



Other Publications



Diary



Notices



Offers



Gallery



More Features



People, Places & Events



Obituaries



Book Reviews



Forthcoming Publications



Contact



Advertisers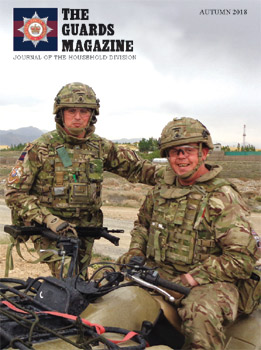 FEATURES (a few examples from the latest edition.
For the full edition - please subscribe)

FIELD MARSHAL THE LORD GUTHRIE OF CRAIGIEBANK GCB LVO OBE
WELSH GUARDS & COLONEL OF THE LIFE GUARDS
I recently visited Field Marshal the Lord Guthrie, a Welsh Guardsman and The Colonel of The Life Guards; and also the first non-Royal Guards Field Marshal appointed since Sir Harold Alexander in 1944 and Lord Gort in 1943. Three Guards Field Marshals, and all educated at Harrow School.
Read more ...
BOSNIA - REFLECTIONS ON TIMES PAST
A quarter of a century has gone by since the 1st Battalion Coldstream Guards armoured infantry battlegroup deployed to central Bosnia on Operation GRAPPLE 3 as part of UNPROFOR (the United Nations Protection Force) and in direct support of the humanitarian endeavours of UNHCR (the UN High Commissioner for Refugees).
Read more ...
DEATH IN PARADISE: The murder of Sir Richard Sharples, formerly Welsh Guards,and Captain Hugh Sayers, Welsh Guards
Just before midnight on 10th March 1973, after a private dinner party, Sir Richard Sharples, Governor of Bermuda, accompanied by his ADC, Captain Hugh Sayers, took his usual walk in the gardens of Government House. Sir Richard's dog, a Great Dane called Horsa, hurried about in front of them.
Read more ...