Home



About Us



Subscribe



Advertise



Diary



Guards Magazine Travel Offer



Gallery



More Features



People, Places & Events



Announcements



Obituaries



Book Reviews



Contact



Advertisers



Schools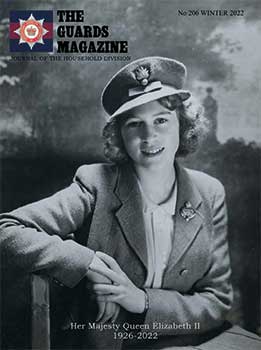 FEATURES (a few examples from the latest edition.
For the full edition - please subscribe)

HER MAJESTY THE QUEEN
80 YEARS AS COLONEL AND COLONEL-IN-CHIEF
THE LONGEST SERVING OF ALL



HRH PRINCESS ELIZABETH
The appointment of Princess Elizabeth to the Colonelcy of the Grenadier Guards solves a difficulty, of a somewhat delicate nature, and satisfies everyone. Precedents are to be easily and happily found in the posts occupied by Queen Alexandra and Queen Mary; Queen Victoria was able to allude to a Prussian Cavalry Unit as 'My Regiment'. Read more ...


INSPECTION OF THE GRENADIER GUARDS AT WINDSOR

21st April 1942
For the Regiment as a whole, and for a great concourse of old Grenadiers, the outstanding feature of the spring has of course been the first inspection of the Regiment by our Colonel, HRH Princess Elizabeth, on her sixteenth birthday, 21st April 1942. Read more ...

A WARTIME PRINCESS


The Duke of Connaught, who had been Colonel of the Grenadier Guards since 1904, died aged 91 on 16th January 1942. He was the great-great uncle and godfather of Princess Elizabeth, and the suggestion that she should be invited to take his place was met with immediate acclaim by the Regiment. She was nearly sixteen and her appointment as Colonel on 24th February signified her emergence from private to public life. Read more ...



THE CORONATION - 1953: A RETROSPECT


Now that three months have elapsed since the Coronation took place, it is well that before it passes into history, we should see it in its proper perspective and distinguish the permanent lessons which it has to teach from any temporary emotions which it may have aroused in us at the time of its occurrence: for it should have a very definite message for all The Queen's subjects in whatever part of the world they may live. Read more ...