Home



About Us



Subscribe



Advertise



Other Publications



Diary



Notices



Offers



Gallery



More Features



People, Places & Events



Obituaries



Book Reviews



Forthcoming Publications



Contact



Advertisers







Follow us on Twitter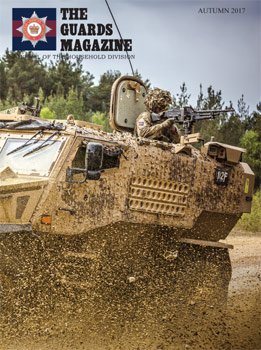 FEATURES (a few examples from the latest edition.
For the full edition - please subscribe)

MAJOR THE LORD WESTBURY MBE
'It surprises me that so few people who leave the Household Division feel they can be entrepreneurs'.

'Well, perhaps we've been regimented to conform, to avoid risk', I replied. Richard took a long puff on his Hoyo de Monterrey cigar, but before he could respond, his mother, Lady Westbury, in whose house I had come to see Richard, came in to talk about the new Bulgarian caretaker.

Read more ...

COUNTER POACHING - WHAT IS IT GOOD FOR?
The inaugural Counter Poaching Operator's Course is a six-week package run by 102 Logistic Brigade at the British Army Training Unit Kenya. Read more ...
ESMOND - THE LOST IDOL
My great-uncle, Esmond Elliot, was a Lieutenant serving in the Scots Guards when, at the age of 22, he was killed on 6th August 1917 at the beginning of the Passchendaele Offensive. Like many of his generation, he considered it a privilege to take a share 'infinitesimally small though it may be' as he put it, in what the nation viewed as a terrible struggle against a brutal aggressor. Read more ...