Home



About Us



Subscribe



Advertise



Diary



Guards Magazine Travel Offer



Gallery



More Features



People, Places & Events



Announcements



Obituaries



Book Reviews



Contact



Advertisers



Schools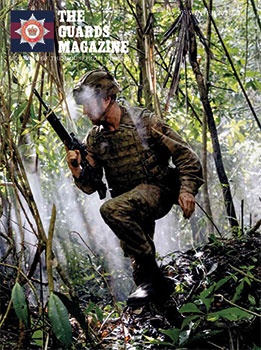 FEATURES (a few examples from the latest edition.
For the full edition - please subscribe)

THE GUARDSMAN OF THE SKY MEMORIAL
On 8th October 2021, a memorial commemorating the links between the Household Division and Airborne and Special Forces was unveiled at the National Memorial Arboretum in Staffordshire. Entitled the Guardsmen of the Sky memorial, it sits, appropriately, adjacent to both the Household Division and Airborne Forces Memorial. Read more ...
Exercise RATTLESNAKE
The Irish Guards in Louisiana
The Irish Guards Battlegroup deployed to Fort Polk's Joint Readiness Training Center (JRTC) in Louisiana in September 2021 to take part in Exercise RATTLESNAKE. Unlike previous iterations of the exercise, which had involved only a company strength attachment from the British Army, the Irish Guards were to be the first battlegroup to take part as a complete battalion. Read more ...