Home



About Us



Subscribe



Advertise



Diary



Guards Magazine Travel Offer



Gallery



More Features



People, Places & Events



Announcements



Obituaries



Book Reviews



Contact



Advertisers



Schools


NOTICES
Issue 205. 
We are publishing an expanded issue of The Guards Magazine which will be available at the end of this month.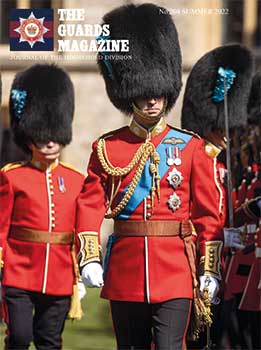 FEATURES (a few examples from the latest edition.
For the full edition - please subscribe)

THE BATTLE OF TUMBLEDOWN MOUNTAIN 40 YEARS ON
Asking a soldier to reflect on the forty years since the Falklands conflict is, in terms of time, rather like asking a Boer War veteran his memories by someone approaching the darkest days of World War 2.  Nevertheless, there are consistent threads and, from time to time, occasional revelations, coupled, of course, with that not-always-so-helpful factor, hindsight, together with one or two little unsolved mysteries.  Read more ...
THE WELSH GUARDS IN THE FALKLANDS WAR
THE 40TH ANNIVERSARY OF THE CONFLICT
During early April of 1982, 1st Battalion Welsh Guards, together with 2nd Battalion Scots Guards, were ordered to come under command of the 5th Infantry Brigade in Aldershot for possible deployment to the South Atlantic. The initial Task Force consisting of Royal Navy surface ships, submarines and civilian ships, with the Commando Brigade spread amongst them, was already on its way south. Read more ...