Home



About Us



Subscribe



Advertise



Diary



Guards Magazine Travel Offer



Gallery



More Features



People, Places & Events



Announcements



Obituaries



Book Reviews



Contact



Advertisers



Schools


NOTICES
"THROUGH MUSIC
WE CARE"
2nd February 2023
A gala Dinner and Concert evening
with Entertainment provided by The Band of The Household Cavalry

.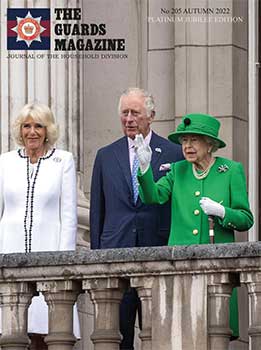 FEATURES (a few examples from the latest edition.
For the full edition - please subscribe)



PLATINUM PARTY AT THE PALACE
HM The Queen Elizabeth II marked her Platinum Jubilee in June 2022, celebrating 70 years on the throne, and becoming the longest reigning monarch in British history. The bank holiday weekend, from 2nd to 5th June, offered the British public an array of celebrations.  Read more ...

STANDING OUT: THE HOUSEHOLD BRIGADE AND QUEEN VICTORIA'S DIAMOND JUBILEE PROCESSION 1897
Amidst the panoply of colour and the cheers of the spectators on Diamond Jubilee day, 22nd June 1897, two elements of the Household Brigade's participation stood out. One was very noticeable at the time; the other did not emerge until the following year. Read more ...



YUKON 700 - 8 GRENADIERS WITH 15 EYES, 13 LEGS AND 99 YEARS' SERVICE…
At midday on 8th June 2022, a team of eight Grenadiers set off in open canoes from Whitehorse in the Yukon Territory, Northwest Canada, heading down the River Yukon. The plan was to get to Dawson City, which is located about 740 km north, having paddled the whole way without any support, through one of the world's last great wildernesses.
Read more ...