Home



About Us



Subscribe



Advertise



Other Publications



Diary



Notices



Offers



Gallery



More Features



Obituaries



Book Reviews



Forthcoming Publications



Contact



Advertisers







Follow us on Twitter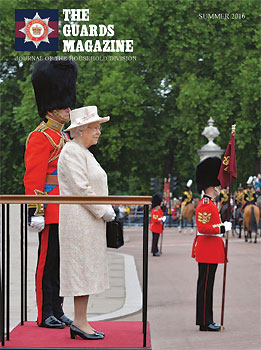 FEATURES (a few examples from the latest edition.
For the full edition - please subscribe)

ALL THE QUEEN'S HORSES
TROOPING THE COLOUR 1947-1986
King George VI rode Winston, a Metropolitan Police horse, at the ceremony of Trooping the Colour marking the Sovereign's Official Birthday on 12th June 1947. It was the first Birthday Parade to be held after World War II with the Guardsmen wearing battledress. Princess Elizabeth rode side-saddle on the parade for the first time and won the deepest respect for her bearing and horsemanship. Read more ...
MARATHON DES SABLES
It is hot and my breathing is irregular as the temperature reaches 35 degrees. The sun is rising ever higher and there is still 30km to cover and the next checkpoint is 14km away. It all seems too much and I find myself saying 'Keep it steady, respite will come' as we run up and down the sand dunes as part of the Marathon des Sables (MdS) in Morocco.
Read more ...
ABU KLEA REVISITED
Having been fascinated with the battles fought by the British in Sudan since I first saw the 1939 version of The Four Feathers, I was determined to take advantage of currently living relatively close by in Dubai by making a trip to the Sudan to visit the battlefields. Luckily for myself, the timing was extremely fortuitous and, following a very kind invitation from the current Defence Attaché in Khartoum, Lieutenant Colonel Edward Melotte, Irish Guards, I was able to join him and a small group of embassy staff and family members on a planned excursion to the battlefield at Abu Klea. Read more ...