Home



About Us



Subscribe



Advertise



Other Publications



Diary



Notices



Offers



Gallery



More Features



People, Places & Events



Obituaries



Book Reviews



Forthcoming Publications



Contact



Advertisers







Follow us on Twitter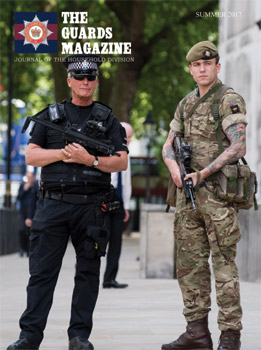 FEATURES (a few examples from the latest edition.
For the full edition - please subscribe)

AN INTERVIEW WITH THE RIGHT HONOURABLE SIR HUGH ROBERTSON KCMG DL
This interview is the first of a regular series in The Guards Magazine, in which former Guardsmen are invited to talk about their time in the Household Division and how this has influenced their later career. Sir Hugh Robertson, who served in The Life Guards for 10 years before moving on to the City in 1995 and then politics a few years later, is the first of hopefully many former distinguished Guardsmen who will submit themselves to the pages of this magazine! Read more ...
COLDSTREAMERS AT SALERNO
In 1943, near the Port of Salerno, thousands of Allied soldiers waged a fierce campaign against German forces. One of the bloodiest encounters was on the now infamous Hill 270. The Grenadier Guards had already been engaged in a ferocious battle with the German Panzer-Grenadiers, but had been rebuffed. On 25th September 1943, 3rd Battalion Coldstream Guards were sent forward with the intention of launching an attack at midday. Read more ...
THE GREAT SILENCE
'Bewilderment and grief swept over the nation in the years immediately following the end of the First World War as it attempted to come to terms with the scale of what had happened. The conflict had torn apart the fabric of society and the task of rebuilding fell upon the shoulders of those whose loved ones would not return. The idea of a two minutes' commemorative pause was established by King George V in 1919 on Armistice Day; this first great silence was observed across the whole land. Read more ...