Book Reviews
ESCAPING THE ORDINARY
The Sequel to 'Gentleman Jim'
by Lorna Almonds-Windmill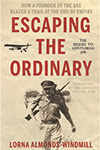 A decade has passed since Pen & Sword re-issued Gentleman Jim, Lorna Almonds-Windmill's first volume of her father's biography, which covered his extraordinarily action-packed wartime career as a Coldstreamer and founder member of the SAS; it was reviewed in the Spring 2011 edition. She also wrote the biography of another remarkable Coldstreamer, George, the 2nd Earl Jellicoe, who also served in the SAS and went on to set up the Special Boat Squadron; A British Achilles was first published in 2008.

While most people who served in the war were glad to return home and get on with picking up as best they could their pre-military lives, Jim Almonds was one of those for whom 'normality' held no real attractions, other than finally being reunited with his wife and young son. Having given a return to the police force in Bristol a good go, his restless spirit soon took charge and in April 1946 he re-joined the Army as an officer in the Glosters. And three years later he accepted a three-year unaccompanied posting to the Horn of Africa.

Escaping the Ordinary examines in detail Jim's post-war adventures, at first with the British Military Mission in Ethiopia and then with the Eritrea Police Field Force. Now largely forgotten by the British public, Lorna has researched in depth the political environment and, in part thanks to her father's letters to his wife, Lockie, she has brought to life how he and his comrades worked so hard to maintain some sort of order in a shifta bandit-infested land.
Jim's time in East Africa ended just as the SAS was being reformed in response to the terrorist threat in Malaya and the second part of this book deals with Jim's return to the fold as the commander of B Sqn 22 SAS in January 1953. And this time, after six years without his family, he was joined by them in Selangor, although they saw little of him because he was often in the ulu (jungle). Once again Lorna is excellent at explaining how the SAS operated and the wider context within which they did so.

In 1956 Jim and his family moved to the Gold Coast where he commanded a company of the Royal West African Frontier Force in Kumasi. Within months this colony became the first to achieve independence as Ghana.

It was in Kumasi that he finally built by hand the boat that he had designed in his head while he was being held in solitary confinement in Italy and expecting to be shot. The second half of this remarkable book covers how in 1960 Jim not only completed the ketch Kumasi, but he then went on to sail her over 5,000 miles all the way back to Stixwould in Lincolnshire, his home village.

Few men can have lived life as fully or as modestly and fewer still can have been as well served by one of their children as their biographer. I can thoroughly recommend Escaping the Ordinary, just as I did Gentleman Jim ten years ago.
Peter Williams

Published by Troubador
www.troubador.co.uk