Book Reviews
BLACK ICE
The memoir of Corie Mapp
Soldier, double-amputee & world champion
by Corie Mapp and Christopher Joll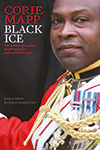 An unexpected by-product of the Covid-19 lockdowns has been the publication of memoirs by two former members of The Life Guards. The first to appear was Peace, War and Whitehall by Field Marshal Lord Guthrie (reviewed in this edition), until recently Colonel of The Life Guards. The second, published a month later, is Black Ice by Lance Corporal Corie Mapp. The regiment of the two authors is the same, but that is the only similarity in content. While Charles Guthrie's story is a tale of a man who rises from a relatively privileged background to the top of his profession and beyond, that of Mapp could not be more different.

As Black Ice relates, Corie Mapp was born in the backwoods of eastern Barbados in 1978. After a troubled time in school, and without any qualifications, the future soldier started his adult career in the Royal Barbados Police, a dangerous and eventful period in his life. Following the death of his father in 2005, he left his island home to pursue his dream to serve in the Household Cavalry. Four years later, after public duties in London followed by CVR(T) driver training, Mapp was deployed with C Squadron, Household Cavalry Regiment, to Helmand on Operation HERRICK XI.

On 31st January 2010, while under enemy fire, Mapp's Scimitar drove over an IED. In the resulting explosion, his vehicle was wrecked, and he was blown twenty feet away from it. When he was found, it was immediately clear that the apparently-grinning Mapp had suffered the loss of both legs below the knee and had a badly damaged left hand. The injured soldier's gruesome, but characteristic, grin arose not from his well-known sunny disposition, however, but because his face had been sliced open from ear-to-ear. It later emerged that Mapp also had a broken jaw and a punctured lung.

Two weeks later, he regained consciousness in Selly Oak Hospital (now the Queen Elizabeth Hospital), Birmingham. Despite being deeply traumatized and seriously ill, a situation complicated by an undiagnosed allergy to morphine, Mapp was determined not only to live but to regain his mobility. A mere month after his admission to Selly Oak, he was discharged into the care of the Defence Medical Rehabilitation Centre (DMRC) at Headley Court. On his first full day there, and despite the excruciating pain, he managed to walk a few steps unaided on his new prosthetic legs.

This, however, was just the beginning of Mapp's remarkable recovery. Over the next couple of years, he competed successfully in sitting volleyball at the Warrior Games and two Invictus Games, captained the winning team in county championship disabled cricket, and learned to play golf. Towards the end of his time at DMRC Mapp was introduced to bobsleigh. At first, he demurred: 'I'm broken enough already,' he said firmly. Later, he changed his mind, only to discover while attending a training camp in Canada, that he was a natural mono bobsleigh pilot.

In the years that followed, the reader learns that Mapp has rarely been off the international para bobsleigh competition podium, winning many medals and trophies including the inaugural World Cup and the 2020 European Championship. Not content with these elite sporting achievements, in 2020 Mapp joined Wiltshire Police as a full-time Police Community Support Officer, and plans to become a Police Constable in 2022, while continuing to compete at the highest level in his chosen sport.

Simply and directly told, that is Mapp's life story to date. But this book is much more than just an unembellished account of the challenges, setbacks and triumphs over adversity that this extraordinary man has experienced without regret or hubris. Narrated largely chronologically and in the first person, Black Ice, Mapp's nickname on the bobsleigh circuit, is not only the memoir of a badly-injured serviceman, but also a vehicle for him to express trenchantly his views about God, in whom he firmly believes; racism, which he states unequivocally he never encountered in the Household Cavalry; and the issues associated with the UK's black community, a subject on which he thinks that fault lies on both sides. Mapp also uses the book, and the last chapter in particular, to send a simple, life-affirming message to Bajan kids like him who were not born with a silver spoon in their mouths.

Mapp's story and his strongly held and lucidly expressed views are not, however, the only remarkable things about this book, which discloses in a postscript that it was written entirely during lockdown. The co-authors, who had not previously met, communicated solely by telephone and only got together in person once the first draft of the book was finished. It does not show in the prose.

Were the challenges of a pandemic not enough, Mapp also admits that he lost much of his memory along with his legs. In what was to prove to be another painful experience, he discloses that the recovery of his memory was achieved through the writing process. However, as is often the case, Mapp has no recoverable recollection of the time between the explosion and his return to consciousness two weeks later. The authors fill in these blanks with moving, first-hand accounts by Mapp's wife, Marketha, and his temporary troop leader at the time of the explosion, Corporal of Horse Matthew Maguire. In addition, the book opens with three ringing endorsements of this remarkable man. The first is by former Life Guard, Sir Hugh Robertson, chair of the British Olympic Association; the second is by Les Ferdinand, director of football at Queen's Park Rangers FC; and the last is by the noted author, and Mapp's (absent at the time of the explosion) troop leader in Afghanistan, Barney Campbell, formerly of The Blues and Royals.

Black Ice is a compelling and, at times, difficult read. This is not because of its style, which is eminently readable, but because of its content: Mapp's life story, which he tells in a disarming and matter-of-fact way, is not for the faint hearted. Those readers of a nervous or squeamish disposition should stick to Lord Guthrie's no less interesting, but altogether less fraught memoir. Bolder bibliophiles may choose to compare and contrast these two tales, told from either end of the social and regimental spectrums.
Andrew Sefton
Published by Nine Elms Books (also available as an e-book)