Book Reviews
THE LOST IDOL: THE LIFE AND DEATH OF A YOUNG OFFICER: ESMOND ELLIOT 1895 - 1917
by Johnnie Astor and Alexandra Campbell
Helion and Company 2017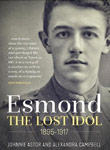 Esmond Elliot like many of his contemporaries represents the lost generation whose future contribution to the life of the nation remains unquantified and unknown. Killed in action in 1917 at the age of 22, there is little doubt that this son of a former Viceroy of India would have gone on to make his mark in public life for his character, disposition and conscientiousness singled him out of an outstanding young man. Both his housemaster at Eton and his Commanding Officer in the Scots Guards spoke extraordinarily highly of him for he was a natural leader, unassuming and modest almost to a fault, always interested in the wellbeing of others rather than his own.

In the course of this book, put together from an impressive collection of family letters and diaries by his great-nephew Johnny Astor and Alexandra Campbell, the reader comes to know Esmond well in all aspects of his brief life, whether as a member of his close knit family, the youngest of five children of an adoring and loving mother, or as an Eton schoolboy making his name as a first class cox. Rather than take up his place at University, Edmund put duty to his country first, joining the Lothian Horse and then taking up a junior staff appointment with the Guards Division in France. By modern standards, this posting is curious for what could a 20-year-old bring to the party? Although very much at ease with senior officers and well informed about current affairs, Esmond asked the same question himself and was overjoyed when he was finally released to join the Scots Guards in the front line.

Here, he excelled as a young infantry officer and the Battalion soon took him to its heart. Like Bunyan's Pilgrim, 'come wind, come weather, there was no discouragement to make him once relent from his first avowed intent', in his case to be a competent, caring and professional platoon commander. His brutal and unforgiving war which was fought in appalling conditions ended abruptly at Passchendaele and with him died part of England's future. Although seven years younger than Patrick Shaw Stewart (Miles Jebb's An Edwardian Meteor) and Julian Grenfell (Nicholas Moseley's Julian Grenfell) and therefore by definition less accomplished, Esmond nevertheless won the unstinting recognition of his peers and the fulsome praise of his seniors in his short life. His story, eloquently and lovingly told by Astor and Campbell, leaves the reader with an acute and tragic sense of loss. This moving tribute to Esmond is a fitting tribute to all the dead of that terrible war.
Alan Ogden