Book Reviews
ESCAPING THE ORDINARY: HOW A FOUNDER OF THE SAS BLAZED A TRAIL AT THE END OF EMPIRE
- the sequel to Gentleman Jim: The Wartime Story of a Founder of the SAS 'Gentleman Jim'
by his daughter, Lorna Almonds-Windmill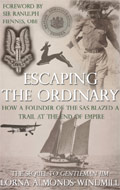 John Edward Almonds, MM and Bar, Croix de Guerre, joined 2nd Battalion Coldstream Guards, aged 18, followed by 8 Guards Commando in 1940. The following year David Stirling invited to be one of the first men in 'L' Detachment, 1st SAS, and he was the only one to keep a daily diary. With his help, his daughter Lorna, an ex-Regular Army captain, wrote his wartime story. At its publication launch party in the Special Forces Club, among the guests were members of 7 Company, Coldstream Guards. Almonds insisted on including four Guardsmen and gave each a signed copy of the book. They accepted politely, but were much more pleased to have escaped digging trenches on Salisbury Plain!

This new book recounts Almonds's post war active service and personal adventuring. Already a double wartime escaper, he was never going to settle for an ordinary job…

Escaping The Ordinary: How a Founder of the SAS Blazed a Trail at the End of Empire, ISBN 9781788030670 is an E-book available worldwide from all major E-book retailers, including Amazon, Apple, Google Play, Kindle, Kobo and Nook. See also YouTube by searching 'Escaping The Ordinary' for a thrilling trailer video clip.

This book will be reviewed in the Summer edition of The Guards Magazine.