Forthcoming Publications
THE PARIS TRAP
by Crispin Black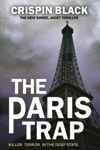 Colonel Daniel Jacot, the badly-burned, flashback prone and Manzanilla-addicted Celtic Guardsman on the National Security Adviser's staff at Downing Street returns in the sequel to The Falklands Intercept (reviewed Winter 2012). In The Paris Trap, a novel set in Paris and Chartres, once again, Jacot teams up with his colleague (and love interest) the glamorous French spook, Monica Zaden. Reinforced by Adjudant-chef Paradis, a Foreign Legionnaire wounded in Afghanistan, they are tasked by a joint Anglo-French COBRA to confront killer terror in the deep state….

Published by Gibson Square on 22nd June 2017. www.gibsonsquare.com

Available in bookshops and on Amazon.

The third in the series, The Venice Archive, will be published in 2018.