Book Reviews
GENERAL 'BOY'
The Life of Lieutenant General Sir Frederick Browning
by Richard Mead
Foreword by HRH The Duke of Edinburgh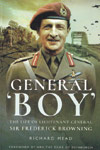 This excellent account of a distinguished Grenadier Guardsmen, 'Boy' Browning, was first published in 2010 and has recently been re-issued in paperback. The author, Richard Mead, covers the full breadth of Browning's life, from childhood, through two world wars, his marriage to the novelist Daphne du Maurier, the inter-war years, his later time as royal courtier, and his sad decline following a breakdown in the late 1950s.

Browning's military career tends to be highlighted by his association with Operation MARKET GARDEN and the failed Arnhem operation, for which he takes some share of blame. However, as the author makes clear in this biography, not all the criticism of Browning was fair or justified. The portrayal of him in the film A Bridge Too Far, released in 1977, 12 years after Browning's death, unfairly damaged his reputation among those who did not know the man. General Sir John Hackett, who had been a brigade commander at Arnhem, described Browning's portrayal in the film as 'untruthful because it shows a superficial, heartless, shallow person who is uncaring - even almost flippant - about the fate of brave men committed to his charge and displays, instead of strength of character, a petulant obstinacy born of weakness. He was not like that at all and could not have commanded such widespread loyalty if he had been'.

General 'Boy' is a highly readable and honest account of Browning's life. He deserves more than to be remembered solely for his involvement in a failed operation, and particularly so since perceptions will forever be influenced by the film portrayal in 1977. Richard Mead has done a superb job here to redress the balance.

The Editor

General 'Boy' The Life of Lieutenant General Sir Frederick Browning. Pen & Sword. www.pen-and-sword.co.uk. £14.99.