PPE
Household Division Memorials
The trustees of the Household Division Charity continue to maintain two memorials. The first at the National Memorial Arboretum and the second at Brompton Cemetery.

The Household Division Memorial at the National Memorial Arboretum is now approaching the 10th anniversary of its unveiling. The memorial is evidently valued judging by the feedback. It stands deep in the National Memorial Arboretum, a Portland stone structure surmounted by railings onto which the five Foot Guards Regimental badges from Chelsea Barracks have been attached.


The Household Division Memorial at the National Memorial Arboretum
Quite rightly, concern arises when the memorial is seen to be suffering from its environment, and the trustees ensure that the memorial is refurbished annually at least. They do review options constantly about how to improve the memorial's resilience but there are no plans currently for significant upgrading. There is a review currently to consider paving replacement or treatment options in order to improve resilience at ground level, that aspect of the memorial taking most of the wear and tear from both visitors and the constant effects of the water-soaked ground.

At the Brompton Cemetery, our Comrades Memorial stands magnificently in the London District plot, maintained by the trustees and always meriting a visit. The Brompton Memorial was erected in the late 19th Century and commemorates Our Comrades of the senior three Foot Guards Regiments. Currently the whole cemetery is undergoing Lottery-funded refurbishment with the ensuing effect for the London District plot expected to be entirely positive.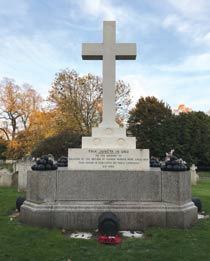 The Brigade of Guards Memorial,
Brompton Cemetery